Axe Throwing Trailer & Laser Tag Combo Package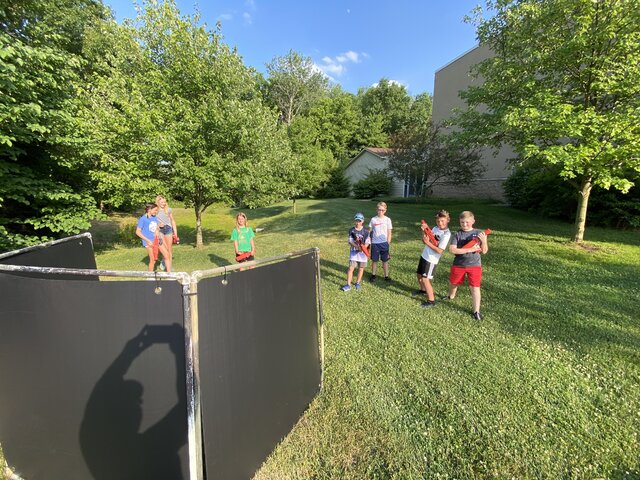 Description
Welcome to the ultimate mobile entertainment experience serving West Michigan and Grand Rapids! Our thrilling combo package brings together the excitement of mobile laser tag and the precision of mobile axe throwing, guaranteeing an unforgettable event for all ages. Whether you're planning a birthday party for kids, a corporate team-building event for adults, or a fun gathering with friends of all ages, our mobile axe throwing trailer serving Grand Rapids and mobile laser tag serving West Michigan will take your event to the next level.
Kids will have a blast playing laser tag at your location of choice. Our state-of-the-art equipment and immersive game scenarios ensure an action-packed experience that will keep them engaged and entertained for hours. Watch as their faces light up with excitement as they strategize with their team, and become laser tag champions.
For adults, axe throwing in the Grand Rapids area provides a unique and thrilling experience. Unleash your inner lumberjack and test your aim and accuracy as you compete with friends and family. It's the perfect activity for team-building events, where you can bond, laugh, and enjoy friendly competition while mastering the art of axe throwing under the guidance of our expert instructors.
Our combo package is great for birthday parties, corporate events, school outings, and any occasion where you want to create lasting memories. It's an experience that brings out the kid in everyone while providing an exciting challenge for adults. Unleash the fun with our mobile laser tag and mobile axe throwing combo package serving West Michigan and Grand Rapids area. Book now and treat yourself to an unforgettable entertainment experience that will leave everyone wanting more!
This package is for 2 hours and has both activities running at the same time. Includes 12 taggers for laser tag. Axe throwing trailer has a projector system with several different games on each lane. Axe throwing trailer has two lanes. We use the end grain of the wood with no bounce back boarders to make sure you have the safest experience.