Video Game Trailer Event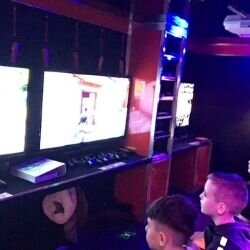 Description
Michigan's Hottest Video Game Theater Party – Stress Free Too!
Michigan's Hottest Video Game Trailer also called a video game bus! At BattleGR Tactical Games, we bring the fun to you – literally!
The Rig
Our custom-built 24′ rig is a gaming theater on wheels! Outfitted with the latest gaming systems and the hottest games, it's sure to be a hit at your next party or event. For families that want the newest and best party experience, this is it! We're the birthday party experts for Grand Rapids, Lakeshore, and surrounding areas!
The Games
At BattleGR's Video Game Trailer (Games On Wheels), we have the largest collection of the greatest video games! We have games that are appropriate to all ages and are always happy to recommend games for your party.
You always have a say over what games are played at your party. Let our Game Coach know what ratings you are okay with, and we'll make only appropriate games available for your guests. BattleGR's Video Game Theater has an expansive collection of the latest and greatest games! With over 250 game titles, we have favorites like Madden Football, MLB Baseball, FIFA Soccer, Minecraft, Just Dance and more! With dozens of sports titles, combat games like Halo and Call Of Duty, action games like MarioKart, Super Mario Brothers and so many more, we've got games for every age range, style and taste!
We will arrive 30 minutes early to set up for your party. We will run all the games and switch out games as many times are you would like in the 90 mins. You can add on more time for $75 per additional 30 mins.
90 Mins Of Gaming
Up To 24 Playing At A Time
We can have up to 16 players Inside and 8 players Outside
Game Coach